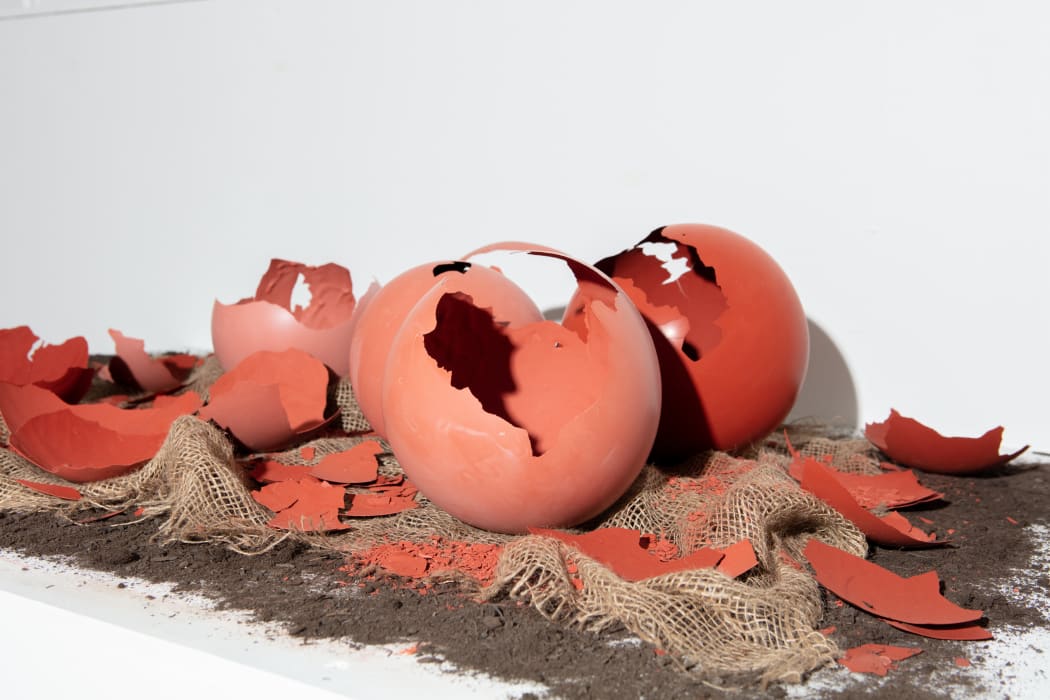 Q: You are interested in depicting the fragility of situations and materials, sending a message to viewers that nothing is permanent. Why is this important to you?
I think more than the fact that nothing is permanent; I intend to shed light on the fragility of life. An invitation to think about our present issues and how we are involved. Whether by action or inaction, we are all complicit. Gendered problems have been around for a while, and in Mexico´s case, they are rooted within the culture. We learn as girls to be polite, never assertive, to let the men dictate how life will be, and we comply.
Q: The subject matter and creation process of your installation highlight femicides, particularly those in Mexico. How did your research on the topic begin?
It started in the summer of 2019 when I went back home to stay with my family for a couple of months. I started watching the morning news with my mom and realized how much of an issue it was; however, there was very little coverage on them. Since then, the issue has become more prominent, and women in Mexico are fighting against it.
Q: How do you hope audiences approach Frailty? What conversations are you looking to spark?
I would love for the audience to experience the piece, walk around and within it. This piece was created to spark conversations about violence and femininity in a beautiful and aesthetic way. To think deep in the ways we are all complicit in gender violence and sexism. To dig deep into ourselves and hopefully raise children with better mindsets so these issues stop one day altogether.
Q: Can you take us through the trial and error process of creating your red oxide eggs?
It was a challenge. It took about two semesters and over 200 eggs to get them right. I think part of why they are so successful is because of the amount of care they need to exist. I think of them as my babies, and they demand the attention of one while being made. They are all cast inside balloons and blown a second time to create a womb before they come out.
Q: What does a typical day in the studio look like for you?
Very red. I am always covered in iron oxide and plaster. I would say around four eggs take 30-40 minutes of my day, but sometimes I get on an assembly-line mind, and I can get 40 out in about 2-4 hours.
Q: How do the themes of nostalgia and sense of place continue to influences your art-making process? What has been the most significant shift for you since moving to Canada?
I think mentally, you never really leave the place where you grew up. Whether it is photographs, decorations or just your aesthetic experiences, you are always longing for that place that you call home. For me, nostalgia encourages me not to lose my Mexican roots and background; it keeps me grounded in my past and makes me take it with me. Most of my art practice revolves around Mexico because it is the place and culture that I know best; it is home. I think Canada has opened my mind to new ways to view my country and my culture; it has expanded my knowledge and gave me the criticality to look at my country from an outsider's perspective. I've grown and evolved, but my heart still longs for Mexico.
Q: The underrepresentation of women within the private and public spears of the art world is a pressing issue. How do you feel the next generation of female artists are pushing for a more democratic and diverse market?
More women are actively participating in the conversations about art to the point where we are a majority. As a society, we are all more conscious about issues like sexism and discrimination and I think the younger crowd is more interested in a fair and diverse world than what we have been having. That said, I do believe there is a lot of work to be done and not only within art, but within every sphere of the world.
Q: Moving into your final terms at Emily Carr University, is there one area of study you hope to explore more?
I will be taking a curatorial practice minor to further conversations into the world. I think the role of curators within society has expanded as new generations have a better grasp of issues we would never have seen discussed before, not were just not taken as relevant.
Q: What is one lesson you have learnt throughout the pandemic that will stick with you?
The idea that while in a pandemic; borders, races or genders didn't matter. I hope we all learned that we are all in it together, it doesn't matter how much money you have, or what color your skin is. Diseases and caos don't discriminate, and if we don't help each other there is no one else that can.